Hong Kong is really a great city and if there's any way we can make your visit just exponentially better, then we are happy to help.

Hong Kong (HK) is a key destination for many travelers. It has a population of more than seven millions. It is located in Eastern Asia, near China and the South China Sea. Formerly, leased to Great Britain, Hong Kong was officially returned to China in 1997. Hong Kong offers diversity in culture, religion, and lifestyles.

Chinese and English are both the official language here. So foreigners, who are planning to visit, should not have any problems exploring, and experiencing the culture of this vibrant place; since English is widely spoken here.

Hong Kong is known for: its unique energetic vibe, its wonderful food, and beautiful skylines. It's best to always bring a camera when roaming around the city, so travelers can capture the essence of this place, and will always have a memento of their visit. The best part of all is that sales tax is exempted on everything in Hong Kong.

The best way to get around Hong Kong is to purchase an Octopus payment card. This card takes you everywhere. It can also be used on any public transportation system, except taxis. It can even be used in vending machines, restaurants, and convenient stores, fast food places, etc.



Immigration and Customs


Q: Do I need a visa to visit Hong Kong?
A: Visitors from most countries can enter Hong Kong without a visa for periods of seven to 180 days, depending on nationality. Check with the Hong Kong Immigration Department for details about visa requirements.

When to visit and where to stay
Q: When is the best time to visit Hong Kong?
A: Hong Kong is a popular travel destination year round. The city enjoys a mild climate from the middle of September to the end of February, while the weather from May to mid-September can be hot, wet and humid, with August being the wettest month. For detailed weather information please visit the Hong Kong Observatory website.

Q: Where is the best area to stay?
A: Hong Kong is very compact, so visitors are never too far from major shopping areas and attractions. We are happy to provide you information with hotels, guesthouse and homestays.

Public transport
Q: Is local transport easy to use?
A: Hong Kong has an excellent public transport system that is considered one of the best in the world. Depending on where you are going, you have a choice of MTR (subway), trains, buses, trams, ferries and taxis.

Get an Octopus Card
It's the city's public transportation fare card. For a $50 HKD deposit and an initial $100 HKD load, you are all set to ride the rails on a comprehensive public transport system that includes ferries, buses and trains. At the end of your trip, you return the card and get back the $50 HKD deposit and any unused money loaded on the card. There's even an Octopus card return desk right after you step off the Airport Express at HKG.

Do in-town airport check-in
At Kowloon and Central stations on the MRT, you can check in for your flight, get your boarding pass and check your luggage through, all before heading out from downtown. You don't see you luggage again until your destination and there's no jockeying for suitcase space on the train. It's seamless and it works!

Telecommunications and postage
Q: Can I get a local mobile phone number during my visit?
A: Yes. You can buy a Prepaid Calling Card or Mobile Data Prepaid SIM Card from major convenient stores at the airport or in town.

Q: Where can I get Internet access in Hong Kong?
A: Free Wi-Fi service is available at Hong Kong International Airport, some government buildings including public libraries as well as every MTR stations. You can access the Internet for free at many coffee shops in town and the Hong Kong Trade Development Council's Business InfoCentre. Check with your hotel concierge for a nearby location to access Wi-Fi. Most hotels offer broadband Internet access; however, this may involve a charge in some cases.

Q: Are local phone calls expensive?
A: No. Calls from private landlines to landlines are free and cost only $1 for five minutes from public telephones. However, hotels will usually charge for local phone calls. International Direct Dial (IDD) services to most countries and regions of the world are available at almost all hotels in Hong Kong.

Other topics
Q: Is Hong Kong safe for visitors?
A: Hong Kong is one of the safest cities in the world, even at night when people can walk alone with confidence. Having said that, to ensure your stay is a pleasant one, always take extra care of your belongings at all times.

Q: Is English widely spoken?
A: Yes. English is widely spoken in Hong Kong and is the language of preference in the government, business and tourism sectors. As a visitor, you can expect to encounter minimal problems communicating in English, as most taxi drivers, salespeople, tourism industry employees and police have reached competent levels of the language. Also, all official signs and public transport announcements, as well as most menus, are in both English and Chinese.

Q: Will I be able to use my electrical equipment in Hong Kong?
A: The standard electrical voltage in Hong Kong is 220 volts AC, 50Hz. Most hotel bathrooms also have outlets for 100 volts, but if not, you will need a transformer for any appliance or electrical equipment. The majority of electrical outlets in Hong Kong take a three-pronged UK-style plug. You can buy an inexpensive adaptor for your electrical equipment at most convenience stores.

Get adventurous with food
Hong Kong is known for delicious local cuisine and its fare shouldn't really be missed. Even local restaurants have menus in English or at least photos of the food so ordering is easy.

Get out of town!
Although the city really has everything that you might ever want, a well-rounded trip to Hong Kong means you've got to leave. Head to the Big Buddha or even on the south end of the island to nab some quiet time and listen to lapping waves. Hong Kong has more to offer than a concrete jungle and escaping the city can do your trip some good. The peaceful marina at Aberdeen and the boardwalk and small market at Stanley are our top picks.

Stick to the water at sundown
A must-do for a first trip to HK is checking out their nighttime lights show on the waterfront. Located on Victoria Harbour at 8pm nightly, this spectacle makes the city come alive with lasers and well-lit buildings across the water, synced to music.

Top 10 Attractions More Sharing Services

Hong Kong's Top 10 attractions are popular for good reason. Those who came here before you voted with their feet and this was their verdict.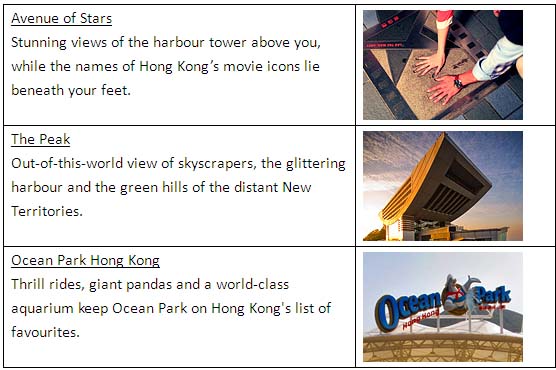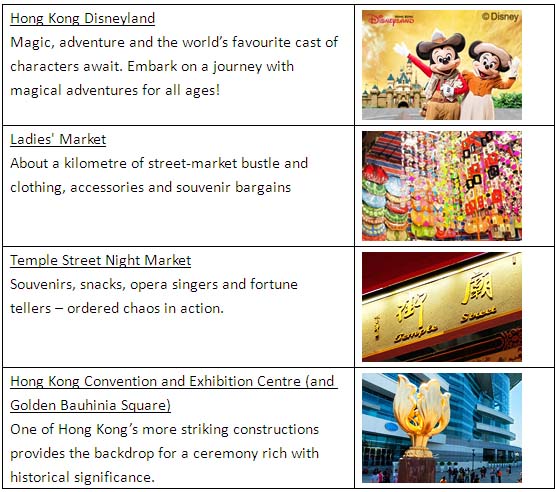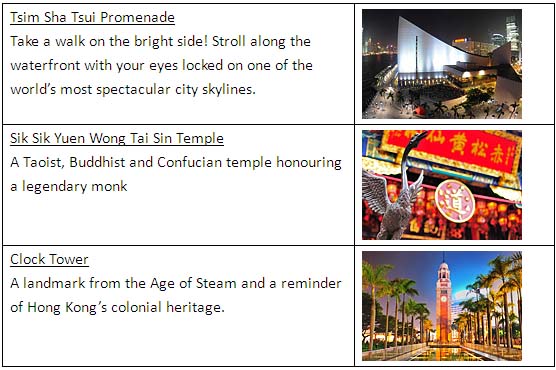 Visas to Mainland China
Most foreign nationals require a visa to enter Mainland China. Visas should be obtained from the Embassy or Consulate General of the People's Republic of China in the applicant's country before departing to Mainland China (Many foreigners can also apply for the Chinese visa from Hong Kong).

Visas to Macau
Visitors to Macau Special Administrative Region are required to possess a valid passport and entry permit or visa for entry. Nationals of 68 countries and regions are exempted in accordance with the written instruction of the chief executive of Macau.